"I love massage. When I was pregnant I had many disappointing massages that people said were prenatal. When I found Christina I found my answer. She is not afraid of a woman's body. She gets in there and works intuitively to relieve stress and aches like no one else. I can't recommend her highly enough. You can either go to her or she makes house calls." - Tina Marguiles
Twenty-five years and many, many Mama Massages later, I can still say I love my work. It is such a pleasure to support women through such a sacred and sometimes challenging journey of bringing new life into the world and being a Mama.
MAMA YOU NEED A MAMA MASSAGE
"I have had many amazing massages with Christina through my last two pregnancies. During my last pregnancy I started crying because I was so moved by how she took care of me. I realize she takes care of me the way I take care of my babies! She knows how to nurture the nurturer. Forever grateful." - Michele Moskowitz (Mom of three).
Are you ready to receive a massage from a therapist who knows how you feel and how to help you in having a more supportive and positive pre and postnatal experience? Are you ready receive a massage from a therapist who…
• Specializes in pre and postnatal women. Also for Moms who are burned out, stressed out, boobed out and in need of Mama rejuvenation time.

• Isn't afraid to give you a "real" massage. Firm and yet nurturing.

• Provides home visits. Especially postpartum care. See Mother Roasting article.

• Honors and supports the wisdom of your body.

• Is passionate about empowering you and making a difference on your sacred journey of becoming and being a Mama.

If your answer is YES. Come see me! It would be an honor to support you.
"Christina's massage are deeply nourishing and nurturing. I appreciate her presence and sensitivity for what works best for my body on any given visit to her. I recommend her to my prenatal yoga students." - Cynthia Denise
Why come to me for your massage? Because…
You will be in the hands of a massage therapist with over twenty-five years of consistent, full-time experience massaging Mamas.

I've been there! Having gone through the pregnancy experience myself, and being a massage therapist at the time -- I am very aware of what you are going through and know what works.

You will be pampered. You'll get a full ninety-minute massage. (I do not include the time you spend changing or the time talking before and after the session.)



"Christina has a gift -she is not only a talented technical massage therapist, but she also is uniquely able to support women in their pregnancies and postpartum through energy work and her knowledge of issues and contraindications for pregnant women and new mothers. Her support has made a difficult twin pregnancy easier, has helped in my recovery from a C-Section, and has aided in my ability to manage the demands of new motherhood." - Kara Basinger


You get soothing hot towels to melt the tension out of your muscles. That is if you aren't a hot Mama already!

You will receive a massage the way YOU like it. I really hear and get what you need.

You will relax in a beautiful, calming, uplifting environment. My home in Marin has been completely Feng Shued inside and out. The minute you walk through the door you will begin to let go.

I use the highest quality organic oils and aromatherapy. Non-fragrance is also available.

You get referrals. I am well connected with the birthing community.

I know doulas, chiropractors, acupuncturists, midwifes, etc. I can vouch for.



One final pleasure…


You get to experience a top of the line pregnancy table.

You can give your hips, shoulders, sides a rest on my pregnancy table.

For all you belly sleepers you will be in heaven!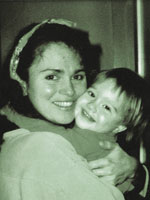 If you have never experienced a massage on a table made for your Mama body, then I invite you to do so. It's soft, wide and a big hole to support your lovely full belly.
All this talk about taking care of yourself while being pregnant, then you have the preparing for the birth, then of course, the birthing itself. But what about postpartum care?
Read on…
Don't forget your postpartum care and support.
Congratulations! You did it. You are a Mama. You are amazing, and you have a beautiful miracle in your arms -- your baby!
"To tell you the absolute truth I was a total wreck after my birthing experience – thirty-four hours of labor, you would be too! I was sad because I wanted to enjoy my beautiful son but I was so exhausted, my hormones were doing crazy things and the nursing was painful. This didn't fit my pictures of motherhood at all! C was referred to me by a number of other post partum friends. I was so excited that she provided in-home visits – I didn't have to leave my baby. Her healing touch soothed my aching body, calmed my nerves, and nourished my soul. I felt whole again. (As whole as one can probably feel after birthing). I can truly say that I was touched by an angel." - Tina Benitez.
Even though you are on a high from the climax of birthing, this doesn't take away from the feeling that you just ran a marathon, or perhaps two, depending how long the birth process took! Your boobs are engorged, your body's aching from this new adventure of nursing (I thought it was supposed to be such a natural process!), your hormones are raging, and I would say you are a bit on the tired side.
It's time for you postpartum Mama Massage!
The sooner the better! I even have clients who call me from the hospital to book a session ASAP.
So you don't have to wait until the baby is on some sort of nursing schedule (you may be waiting a long time). I come to your home, always allowing enough extra time if you do need to nurse. I support you in grounding back in your body with my therapeutic, nurturing, healing touch using aromatherapy to soothe your soul and I also offer my "Mother Roasting" treatment to help tonify and build your kidney chi back up. (Optional) CLICK HERE.
"I was really intrigued by the Mother Roasting article Christina gave me while I was pregnant. She reminded me of how important it was to get postpartum support. Boy was she right! I was even most impressed when she came to my house to give me the treatment combined with massage. She even showed my husband how to do the Mother Roasting to help support me in rebalancing. All I can say is: There is heaven on earth! Don't miss it." - Marianna Sucher
While I am at your home I encourage the postpartum partners (Papas and second Mamas) to get a massage to ground them back in their bodies also. Time and time again I hear how my clients were so deeply moved by the way their partners were there for them during the birth. So let's celebrate, appreciate, and take care of the partners with a healing massage.
---

Christina Del Gallo
| | | |
| --- | --- | --- |
| 510-305-3307 | | San Rafael, CA |
---
More Testimonials
"I have had the pleasure of collaborating with Christina Del Gallo's Mama Massage for the past fifteen years.

I refer my clients to her because of the excellent care which she consistently provides. It is with utmost respect and appreciation that I endorse Christina's work. Her influence has an amazing effect in many ways. She helps to develop self confidence and deep trust in the wisdom of one's body. Clients who work with her are empowered to access emotions which will help them prepare for the biggest event in life – giving birth. When a woman opens physically (dilation) during birth, she also opens emotionally and for some people, massage is a direct and intuitive process which allows this to happen naturally.

Christina is a master in the many physical challenges which are unique to pregnancy, including proper posture, and relief of sciatic and or low back pain. She relieves these discomforts through breath work, visualization and massage, paying special attention to the neck, lumbar and upper back. Overall she leaves the client feeling nurtured, at ease and focused. Many women report an increased capability of staying in the present moment and really listening to the wisdom of the body. This is another powerful tool for coping with labor and birth. It helps the client find her own rhythm, her own unique way in which only she will give birth.

Personally, I choose Christina as my own practitioner. She is an inspiration and goddess and I am grateful for her competence, dedication and compassion. I look forward to sending all of my clients her way and collaborating with her personally and professionally in the future."

Jeri Zukoski, Certified Nurse Midwife


" Through my first pregnancy, Christina has been there with her healing hands. I've treated myself to her soothing and deep touch that has eased the aches and pains of pregnancy. She has also provided love and understanding to a first-time mother. I leave Christina's office feeling cared for, such that my massage sessions with her have become a means of reconnecting with myself and my baby. Through this nurturing and relaxing experience, I'm able to ease into my own body and to motherhood."

Clare Trimbur, Psychotherapist, Piedmont, CA


"Christina does great prenatal mama massage! She is located in the Glenview, Oakland and San Rafael Marin areas and does massages from her office and home. She will also come to your house for a reasonable fee. I had a very tough pregnancy and her bodywork really helped me especially toward the end of the pregnancy when I was so heavy and uncomfortable and could barely walk. She also does work for postnatal. She is kind, professional, and very good at what she does. I would very definitely give her a call."

Happy Mom, Berkeley, CA


"I have been a massage therapist for over twenty years and had a vast amount of massages. I must say that Christina's massages are exceptional. They are technically superior, heartfelt, loving, delicious experiences that takes one into the higher realms of consciousness. You will leave feeling healed and renewed."

Judy Woodrow, CMT, San Rafael, CA


"I was really intrigued by the Mother Roasting article Christina gave me while I was pregnant. She reminded me of how important it was to get postpartum support. Boy was she right! I was even more impressed when she came to my house to give me the treatment combined with massage. She even showed my husband how to do the Mother Roasting to help support me in rebalancing. All I can say is: There is heaven on earth! Don't miss it."

Marianna Sucher, Aromatherapist, Orinda, CA


"I am writing to recommend Christina Del Gallo as a massage therapist. I had the pleasure of having Christina do some much needed bodywork on me while I was eight months pregnant. Before she began we spoke about the particular issues I was having in my body and what I wanted her to focus on, most of which, she almost knew without me having to explain. Christina was attentive to my special positioning needs and made sure I was completely comfortable on the table before she began. Her hands were strong when they needed to be and gentle n the more sensitive areas. I left feeling relaxed and rejuvenated. I wish that I had found her sooner in my pregnancy and could have had her work on me more. I would recommend her to anyone in need of a little pampering and relaxation."

Renee Pomerleau Araneda


"Rare is the moment during a second pregnancy, when one has a toddler at home, that one so fully relaxes as to drift in and out of sleep in the middle of the afternoon. Thanks to the calming, gifted hands of Christina Del Gallo, I was able to do this more than once during my pregnancy with my second child. Christina has a very strong but gentle touch; she doesn't intrude if you want silence, but she is available with a compassionate ear if you want to talk. I believe she only does 90 minute sessions because she recognized that's how long it takes to relay relax into the moment of the massage. (How I wish it could last three hours!) Christina also does home visits for post-natal massage. I thought this would be a stressful event, doomed to failure, but she assured me that would work with my schedule, and the baby's needs, and that it would work out just fine. She was right. She came to the house on a day when my husband was at home to watch our newborn, our toddler was at childcare, and I could remove myself form the scene for 90 minutes of bliss. Most excitingly, I was able to lie on my stomach for a few minutes for the first time in months! Especially after the pain of childbirth – and for me the pain extended, even increased, for weeks – this was a very important and meaningful gift. I highly recommend Christina to expecting or post-partum women."

Eliza Patten


"Christina Del Gallo has supported me and my aching preggy body through two pregnancies now and she has been a goddess! Her intuition and experience as a massage therapist (and a mother herself) was immediately evident and my sessions with her are the highlight of my month. I also trusted her wisdom in knowing how to help my every changing pregnant body implicitly, which gave me a great deal of comfort. I leave feeling like I am floating and that the inevitable kinks of pregnancy have been worked out. On top of that, her holistic approach to life, massage and pregnancy have been true therapy."

Kim Hoffman, Sales Executive, Oakland, CA